Connect: Bringing Faith to Life—Parish
Catholic Faith Formation for Tweens in Grades 6–8
Where faith and life come together! Connect! Bringing Faith to Life is 3-year interactive program that presents the core teachings of the Catholic faith to young people in grades 6 to 8 in a way that helps them connect learning with living.
Imagine, just one student book for a comprehensive 3-year program! A catechist guide for each year creates easy-to-teach engaged learning lessons that are meaningful and "stick." Unique and relevant life issue lessons help young people navigate life through the lens of faith. Free digital lessons are included for each year too!
1. Connect! Student Book
2. Connect! Activity Book
3. Connect! Catechist Guide(s)
4. Digital Lessons, included for free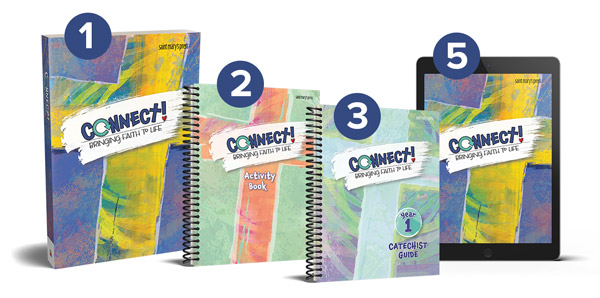 Are you looking to adopt new faith formation for Grades 6-8? For a free review copy please fill out the form below.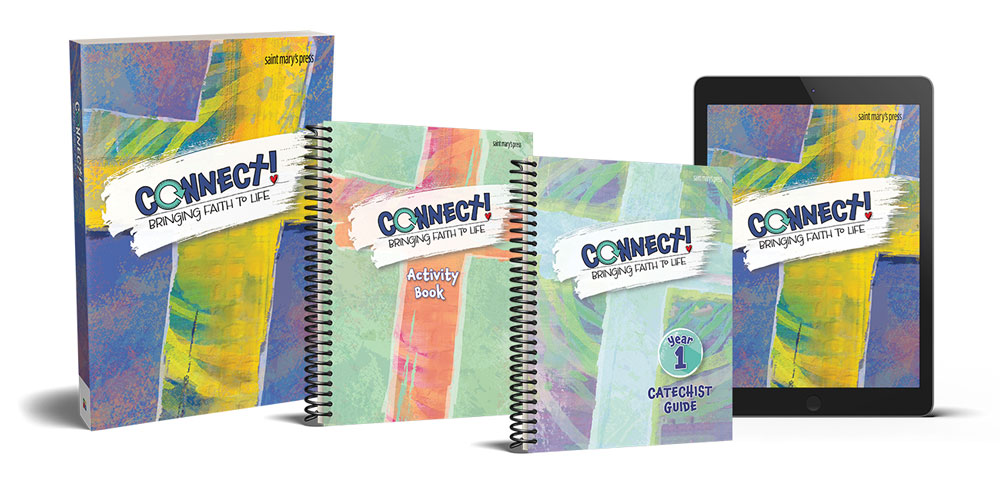 Connect! Catechist Guide(s)
Digital Lessons, included for free
This new program is really great. It is perfectly suited for Middle School students and the lessons are very informative and engaging. For the online version of the program, I wish there were a few videos to break up all of the text and reading (similar to the Discover! program online videos). Overall, we are very happy with the Connect! program for our parish.
We are very pleased with the Connect program. With the online features it really helped to keep our children involved. Looking forward to expanding our use of the program.
Connect is an excellent program which has been well received by the students and catechists. The youth are well prepared to enter 9th and 10th grade programs preparing them for receiving the Sacrament of Confirmation.

Dive deeper into faith!
Each year of the program explores the four doctrinal pillars of the Catholic faith (the Creed, Liturgy and Sacraments, Christian Morality and Justice, and Prayer), along with chapters dedicated to a solid understanding and use of the Bible.

Filled with vibrant, active learning! 
Active and engaging lessons encourage honest reflection and meaning making. Using an accompaniment model of forming young people in the faith, this program meets young people where they are.

eLearning and rich resources, included!
We're here to support you and set you up for success! Our online resources, links, videos, interactive eLearning lessons, and our team of experts are all here for you.

Value, built right in!
Imagine, just one student book for a comprehensive 3-year program! And free eLearning lessons are included for all 3 years!
Explore more helpful resources as you review Connect!
Including our scope and sequence guide.