Empower and inspire kids to read, understand, and love the Word with The Catholic Children's Bible! This full-color Bible features large print for easy reading, wondrous illustrations to bring Bible stories to life, and special sections that help kids go deeper into the Word.
Kids love how easy it is to find specific books and stories, and they'll be excited to open their Bibles whenever they can! View the full series.
Are you a parish or school looking to adopt The Catholic Children's Bible? For a free review copy please fill out the form below.
Empower children to learn and love the Bible
We design so many resources to pair with The Catholic Children's Bible because we believe that biblical literacy—the ability to read, understand, and live the message of Scripture—is one of the most important gifts we can give to young people.
Read it!
Biblical literacy starts with being able to read from Scripture itself, and The Catholic Children's Bible was created to help kids do just that. Focused Reading Plans guide children through the important themes of the Bible, from the Great People of Faith to the Miracles of Jesus, Following Jesus, and The Mass!
Find it! 
Made for easy navigation, The Catholic Children's Bible features color-coded tabs, clear and easy-to-read story titles, and large chapter and verse numbers to help kids easily locate exactly what they're looking for.   
Understand it!
125 different featured stories welcome kids into a deeper relationship with the Word. These featured stories highlight specific passages, invite the reader to explain them in their own words, and encourage them to live out the core message found in the story!
Love it!
The core goal of biblical literacy is a love for God's Word, and the core goal of The Catholic Children's Bible is to welcome children into that love. Every feature, every page, is designed to encourage children to go deeper into the Word and to grow in love for God!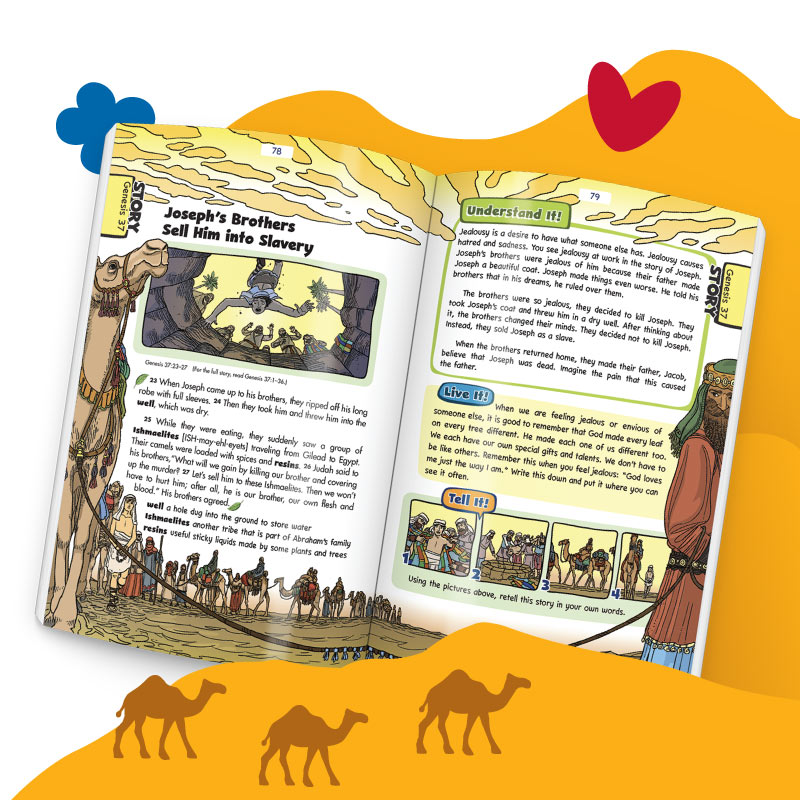 What people are saying . . .
The Catholic Children's Bible is a must for younger children! We have given this bible to our First Eucharist students for the past 4 years and the excitement over the bible is shared by both parents and children. It is joyfully anticipated by all those entering second grade.
Thank you so much for FINALLY giving us a Children's Bible! I kept searching for something to have for my children and I found it last year at a Conference in our area (Bishop Ricard's Conference). I was so excited I texted my friends to see if they wanted one -two had them within days. I also help with a women's group at my church, and will be sure to share with them this beautiful resource.
The Catholic Children's Bible from Saint Mary's Press is the first children's Bible that color-codes all the books, making it easier to use! It is the Bible a child can grow up with!
I attended a First Communion meeting today as a catechist and parent. Your representative presented some of the elements of The Catholic Children's Bible. I told her we use it during our second grade Parish School of Religion class because the children love it. Our students discovered page 15 (Bookshelves) and taught each other the order of the books. An awesome experience!
Get the Bible that brings the hearts of children to the heart of Scripture
Go Seek Find: Discover God's Treasures
Add our popular Sacraments program Go Seek Find to Discover! Finding Faith in Life and save with special pricing!